Welcome to the blogging universe, where the magic formula for success involves two powerful buddies: AIPRM Extension and ChatGPT, also known as "AIPRM for ChatGPT". Think of them as your blog's superhero team, making it not just seen but loved by search engines.
This special combo turns your content into something extraordinary. Join us on a journey to discover how AIPRM for SEO can make your blog a standout star in the digital world.
It's like giving your blog a superpower boost! Get ready for a unique adventure that transforms your blog into a digital sensation.
About SEO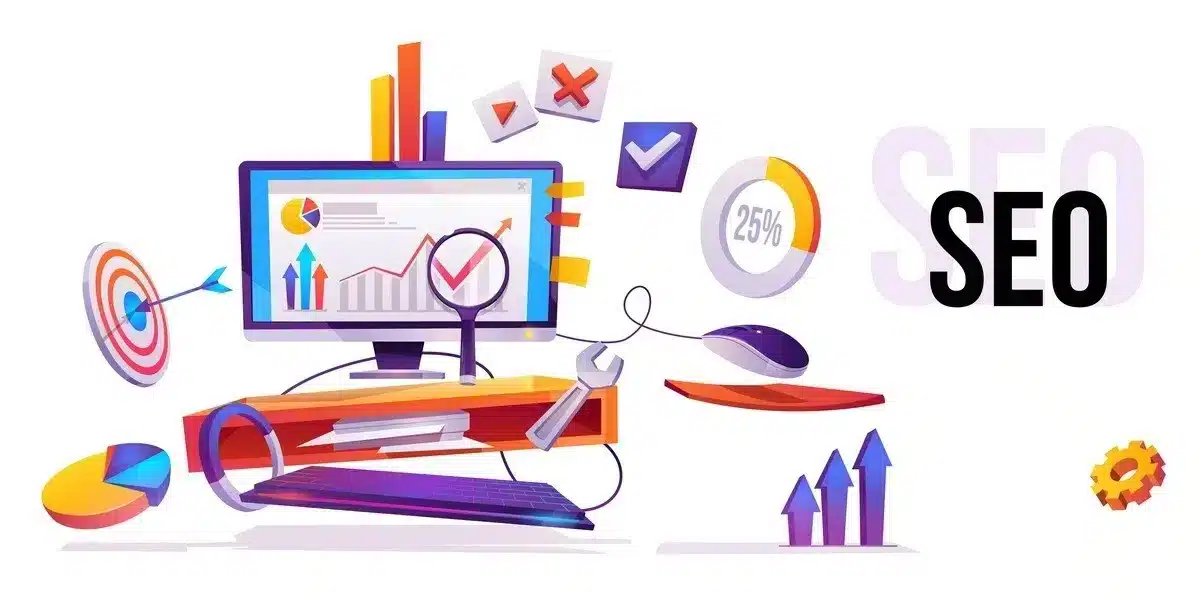 Welcome to the internet world, where SEO, or Search Engine Optimization, acts as a personal tour guide for your website's content. It's all about making your content appear appealing and simple to locate when viewers use search engines like Google. Consider SEO to be the Helpful Assistant who ensures that your content moves smoothly over the internet and does not get lost.
SEO determines what people are looking for and changes your content to meet their demands. It's not just about being seen; it's also about providing useful and engaging information to your audience.
So, let's take a closer look at SEO and How to choose the proper keyword phrases, update your content, and ensure your visitors appreciate what they find.
The important SEO Terms for generating a Top-notch Blog
Pick the Right Keywords: Find and use keywords that people often search for in your content. This can be done by using various keyword research websites.
Smart Blog Title: Make a catchy title that tells what your blog is about and uses important words.
Meta Description: Write a short yet interesting Meta Description for your blog to draw in viewers to visit it when they see it in Google's search results.
Add Good Backlinks: Add backlinks to your blog, The more reliable the connecting sites, the more positively search engines consider what you post, boosting the overall ranking of your blog.
People-Friendly Content: Write stuff that's interesting and easy to read. Also, keep it up to date and make sure it works well on phones.
Answer Common Questions (FAQs): Include a section that answers questions people often have. It's a great way to add more helpful words.
To get your blog to become a star in the online world you can consider additional tips for optimizing your blog's SEO getting noticed by both people and search engines.
ChatGPT: Your Ultimate Blogging Companion!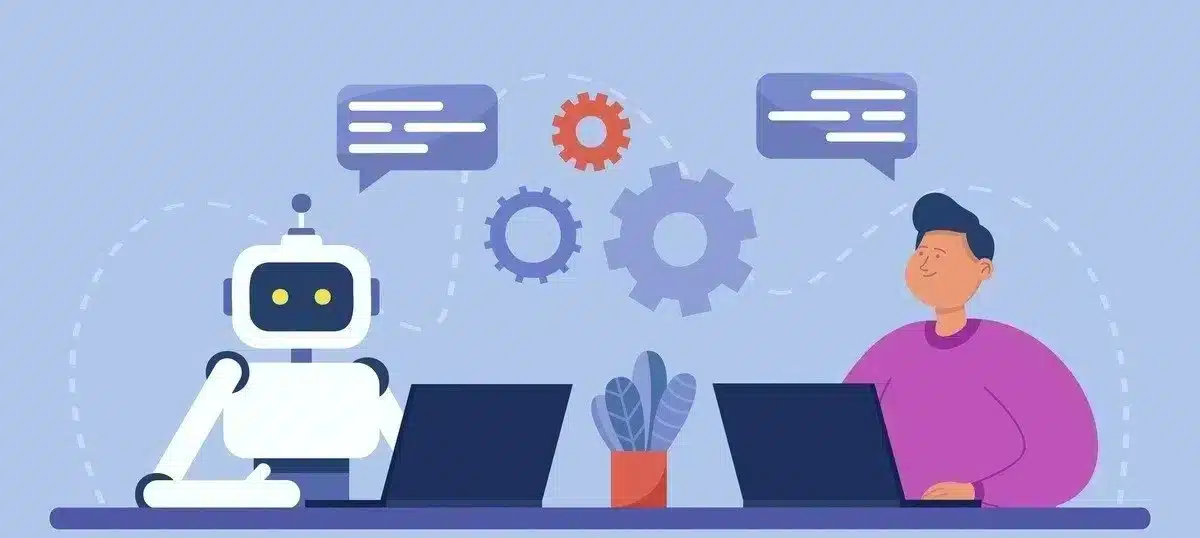 Meet ChatGPT, your writing buddy! It's like having a clever friend who helps you write awesome stuff without any hassle.
You throw in a topic or question, and bam! ChatGPT responds with words that sound just like you. It's not a complicated tool; it's your secret weapon for making writing easy and fun.
Whether you're a pro or just starting, ChatGPT is here to turn your thoughts into something amazing. No more writer's block, say hello to your new writing sidekick, ChatGPT!
Why use ChatGPT for blogs?
Efficiency: ChatGPT accelerates the Content Creation Process. It quickly generates ideas and drafts, saving you time and effort.
Creativity Boost: ChatGPT injects creativity into your blogs. Its ability to produce human-like text adds a fresh and engaging perspective to your content.
Consistency: Ensure a consistent writing style across your blogs by instructing ChatGPT accordingly. This helps in maintaining a cohesive brand voice.
Versatility: ChatGPT is versatile and adapts to various writing styles and tones. It can produce content ranging from formal articles to casual blog posts.
Quality Enhancement: While ChatGPT helps in generating content, it is complemented by the writer's review and editing. This collaborative effort ensures the final output meets quality standards.
Overcoming Writer's Block: ChatGPT can help you Overcome Writer's Block. When ideas run short, ChatGPT can serve as a place to start to get the ideas flowing.
Innovative Content: The model's ability to Understand and Interpret Prompts allows for the generation of innovative and unique content ideas that may not have been considered initially.
Accessibility: ChatGPT is accessible through various platforms, making it a convenient tool for content creators. Whether through API access or web interfaces, its availability contributes to its user-friendly nature.
What is AIPRM Extension?

Enter the world of digital marketing with AIPRM Extension – your Online Superhero. AIPRM, or Artificial Intelligence-Powered Marketing, is like a sidekick for your web browser, especially Chrome.
It helps make your content better and boosts your online game. But when you team it up with ChatGPT, it becomes AIPRM for ChatGPT, a powerful combo that takes your digital marketing to a whole new level. Let's check out how AIPRM for ChatGPT can make your online presence shine.
How to Install AIPRM Extension in Chrome
Installing AIPRM Extension on your Chrome browser is super easy, just follow the below steps, and the job is done.
Visit Chrome Web Store: Open Chrome and go to the Chrome Web Store.
Search for AIPRM Extension: Type "AIPRM Extension" in the search bar and press enter.
Pick AIPRM Extension: Click on the AIPRM Extension in the search results.
Click "Add to Chrome": There's a button that says "Add to Chrome", Click it.
Confirm Installation: A pop-up will appear next, just click "Add Extension".
Wait a Bit: Chrome will do its thing, and you'll get a message confirming the installation.
Access AIPRM Extension: Look for the AIPRM icon in your browser's toolbar. Click on it to open the extension.
Visit ChatGPT: Once you Added AIPRM to Chrome you can simply view it on your ChatGPT once you log into it.
The Winning Team: AIPRM Extension + ChatGPT

Say hello to the winning team that's changing the digital game: AIPRM Extension + ChatGPT, also known as "AIPRM for ChatGPT". Think of AIPRM as your Digital helper and ChatGPT as the Creative touch. Together, as AIPRM for ChatGPT, they make a super team that takes your content and online presence to the next level.
Let's discover how this unbeatable duo can make your digital journey a triumph.
How does AIPRM for SEO work?
While using AIPRM for ChatGPT, The AIPRM handles the Strategic Stuff, fine-tuning your content and Boosting your online game. On the other side, ChatGPT brings Creativity, Giving your content that extra spark. Together, they create a perfect balance that takes your digital presence to a whole new level. Ready to unravel the secrets of how AIPRM for ChatGPT works its magic? Let's dive in!
Using AIPRM for SEO Blogging Prompt
AIPRM Extension offers several prompts on ChatGPT that help in improving the overall appearance of the blog, such as Producing Blog Titles, Meta Descriptions, FAQs, and many other Prompts. If you're looking for something to assist you in optimizing your blog's SEO in less time, AIPRM for SEO is the ideal alternative. Let's have a look at some of the various prompts and how to use them on ChatGPT.
Generate Blog Title:
Step 1: Select the option "Copywriting" under the "Topics" section.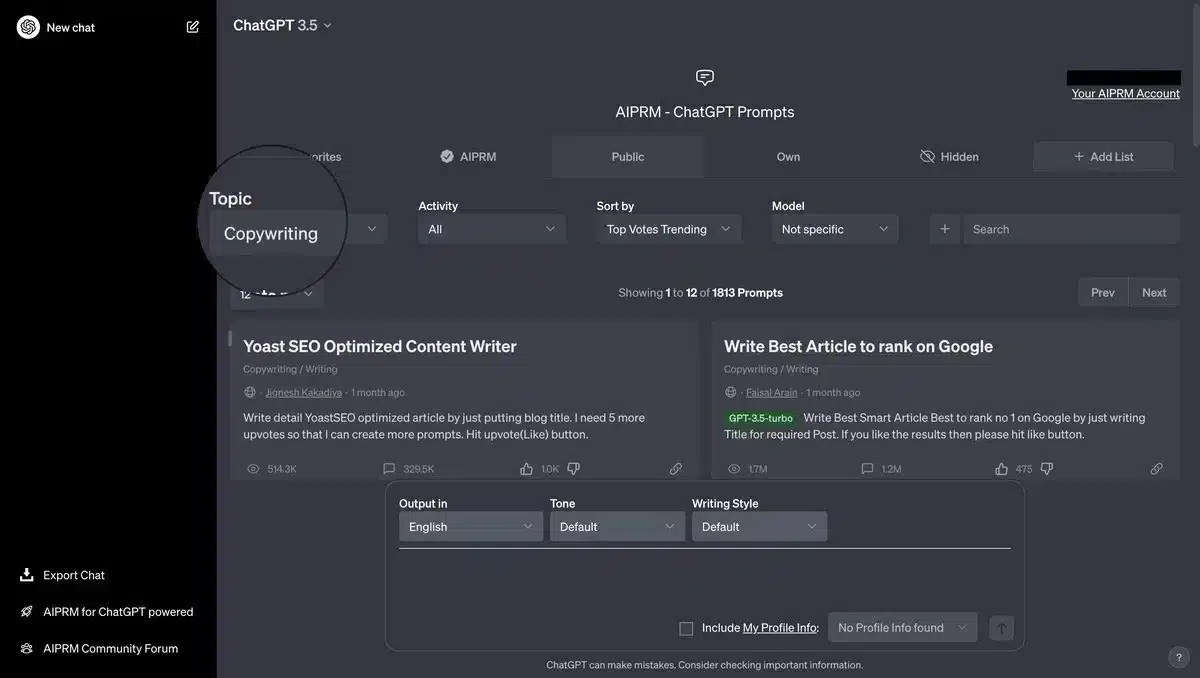 Step 2: Next, select the prompt known as "Blog/Article Title Generator".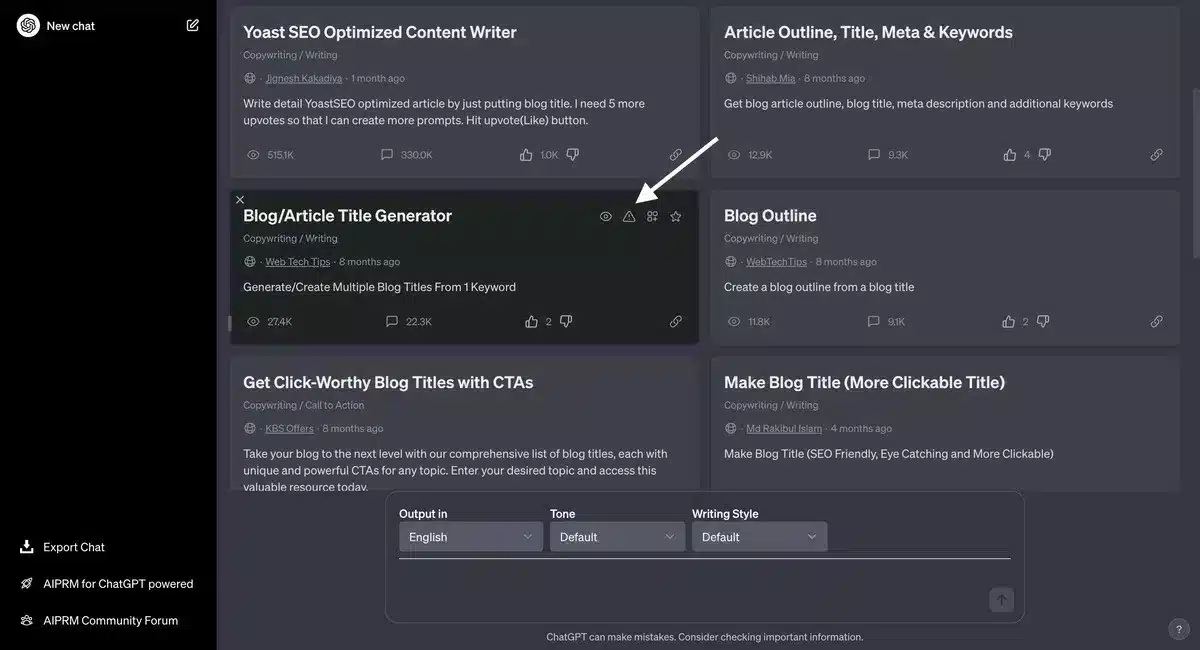 Step 3: Enter your "Focus Keyword" in the search box below.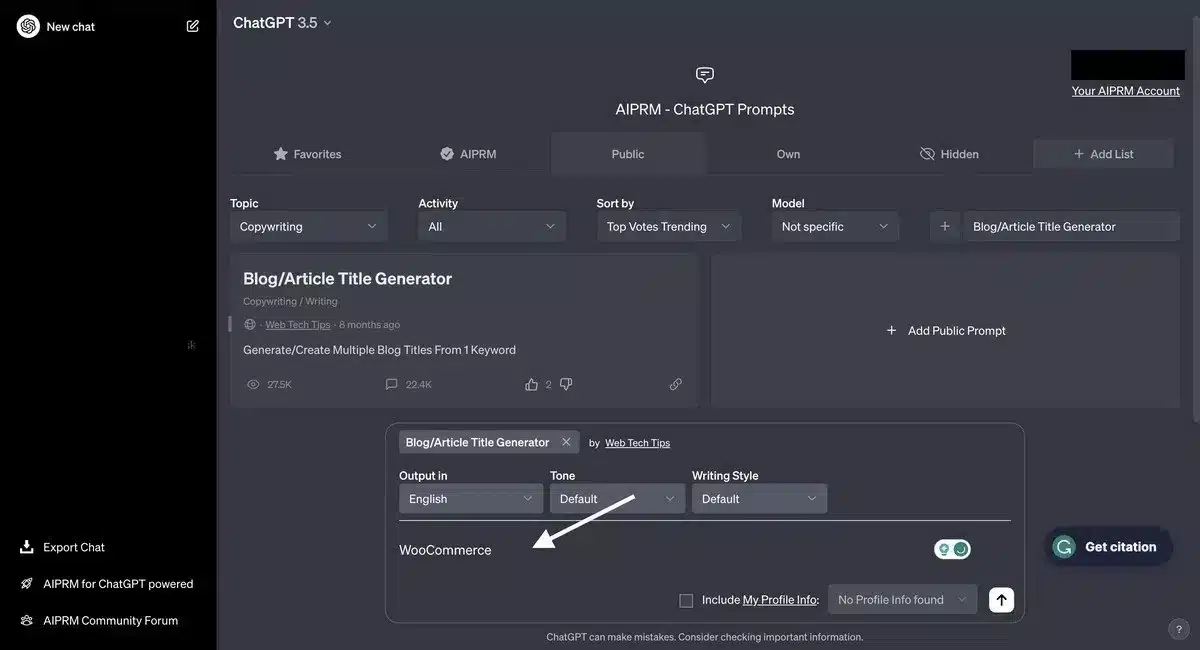 Step 4: Next, you'll get a list of Unique as well as Appealing Blog Title Names related to your Focus Keyword.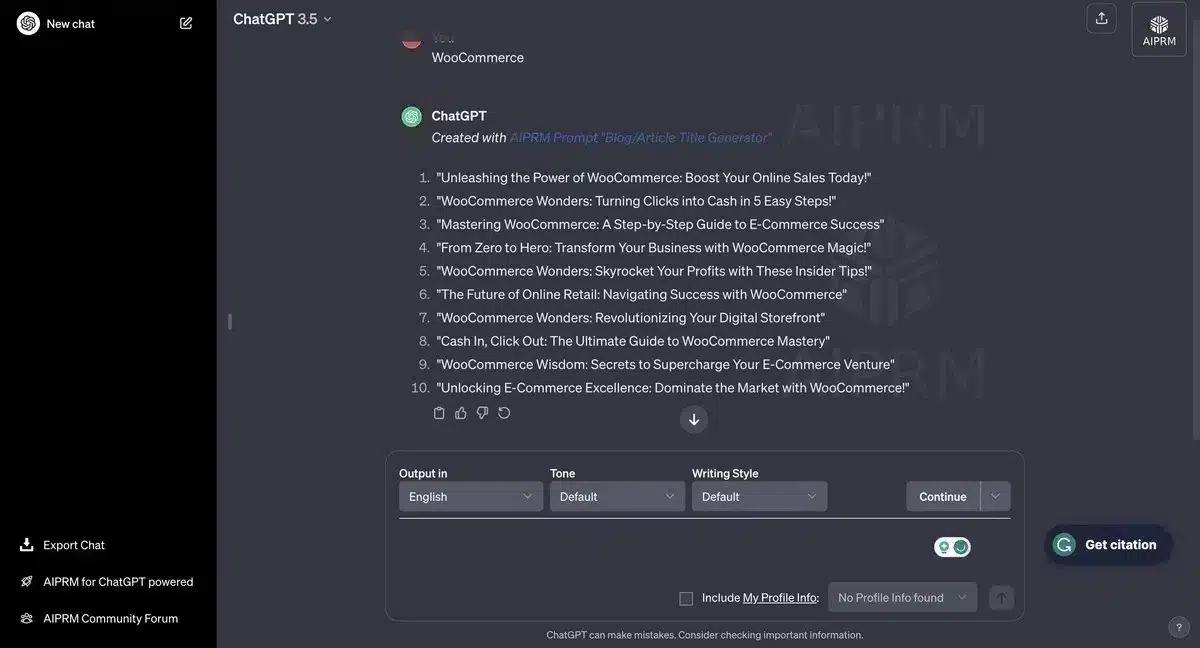 Create Content with ChatGPT:
Step 1: Select the option "SEO" under the "Topics" section.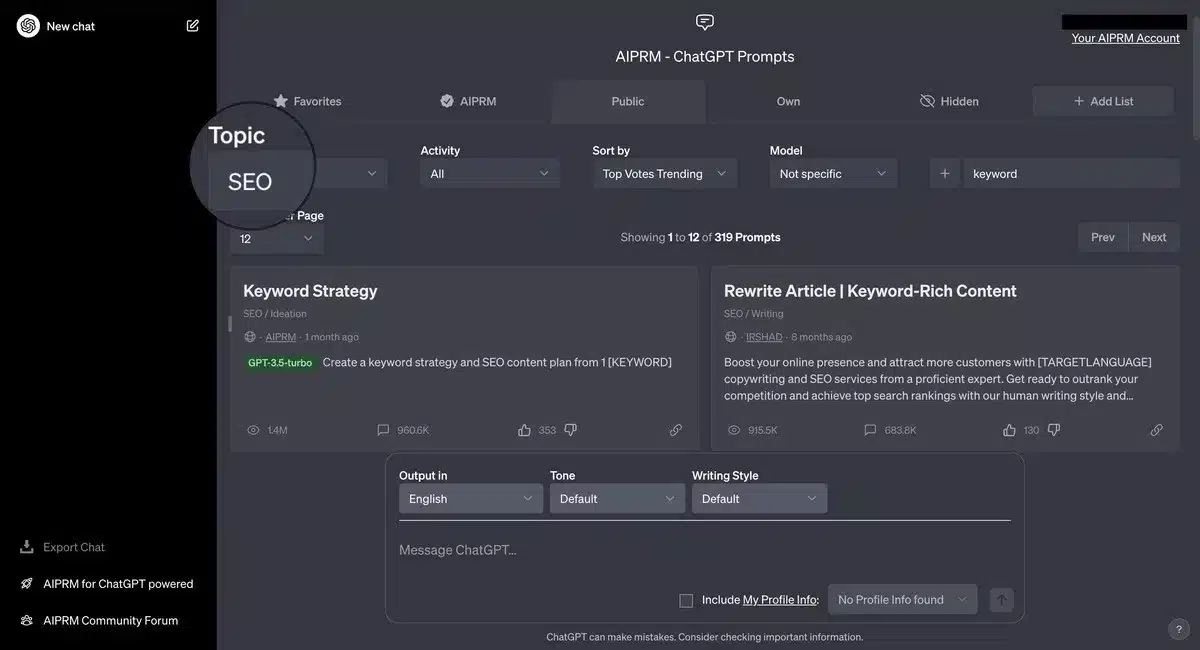 Step 2: Next, select the prompt known as "Human Written | 100% Unique | SEO Optimized Article".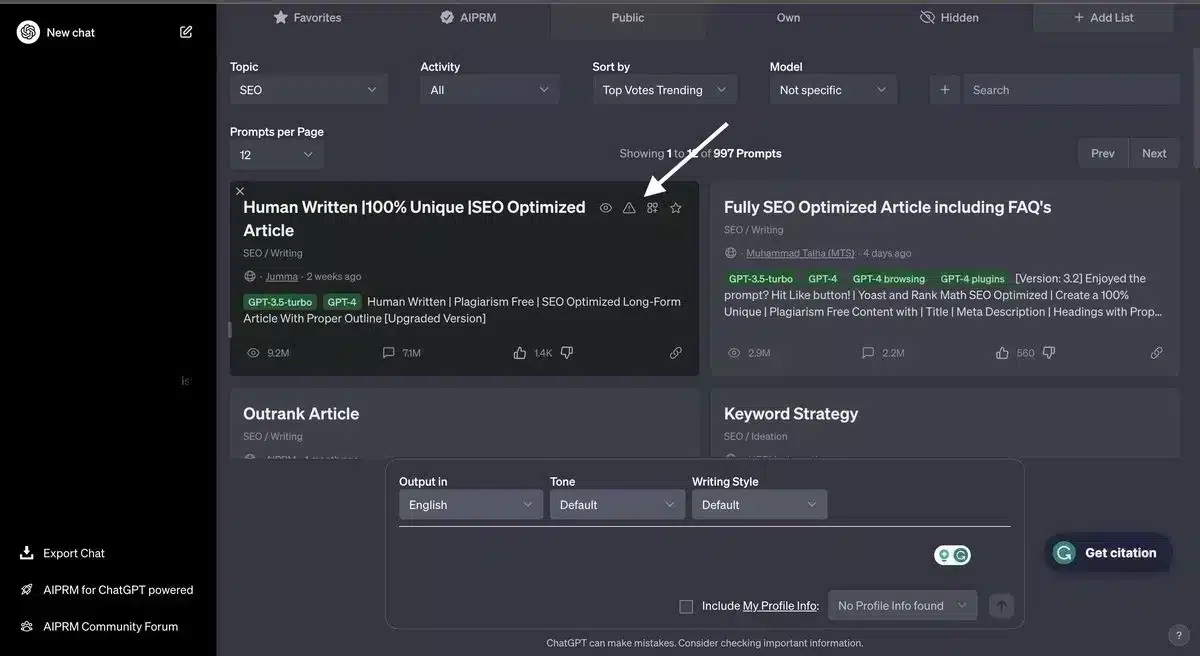 Step 3: Enter your Blog Title or Keyword in the search box below.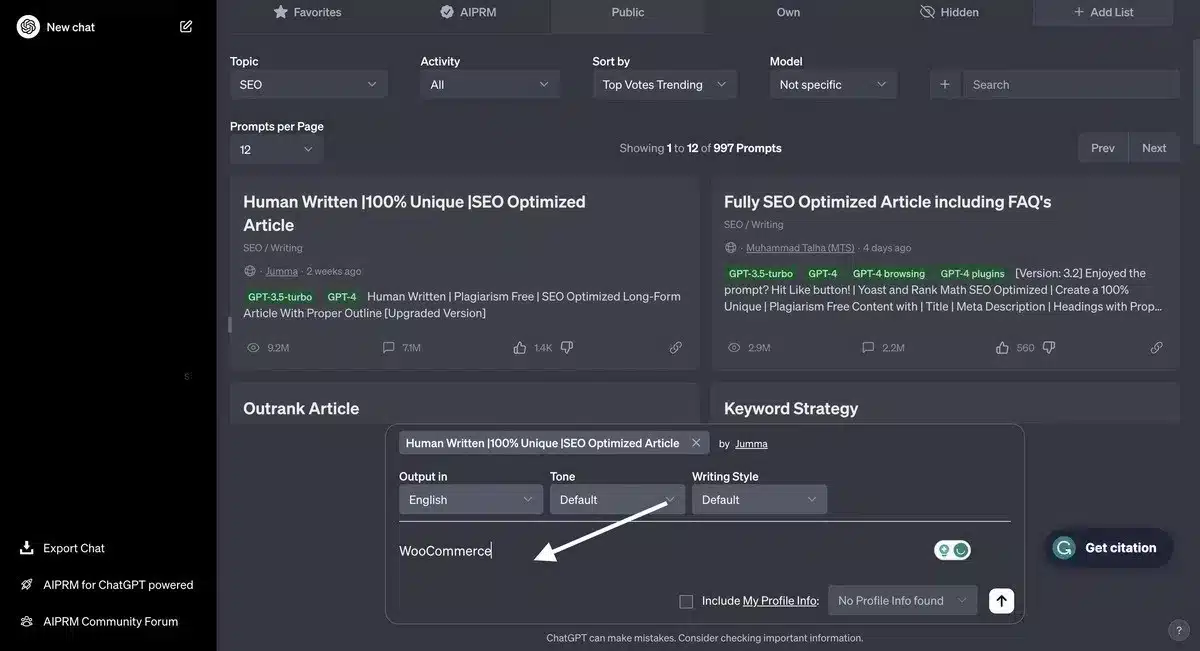 Step 4: You'll get an Entire Blog content with detailed information related to your Blog Title.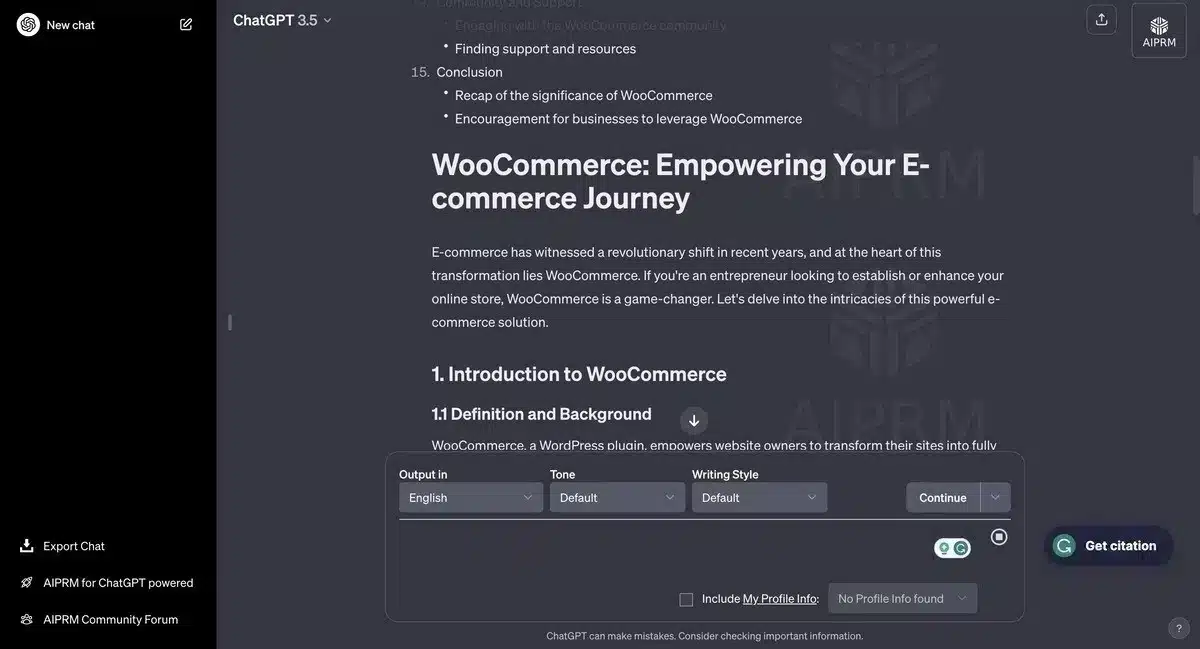 Generate Meta Description:
Step 1: Select the option "Copywriting" under the "Topics" section.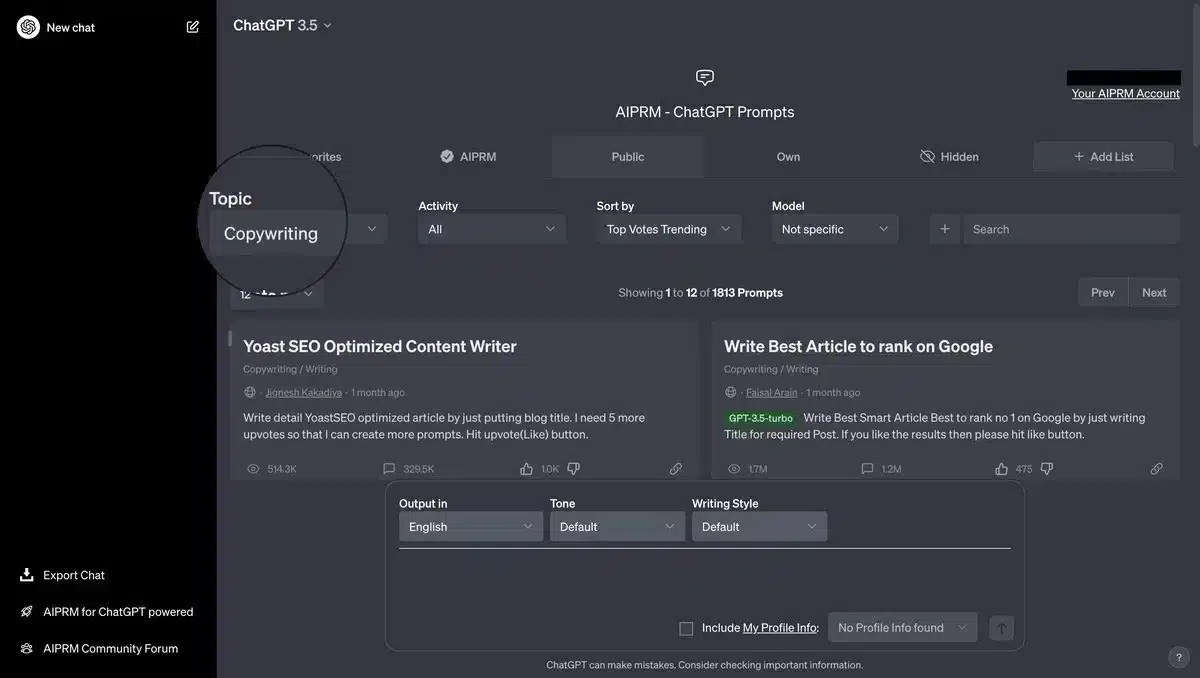 Step 2: Next, select the prompt known as "SEO Meta Title & Meta Description Generator".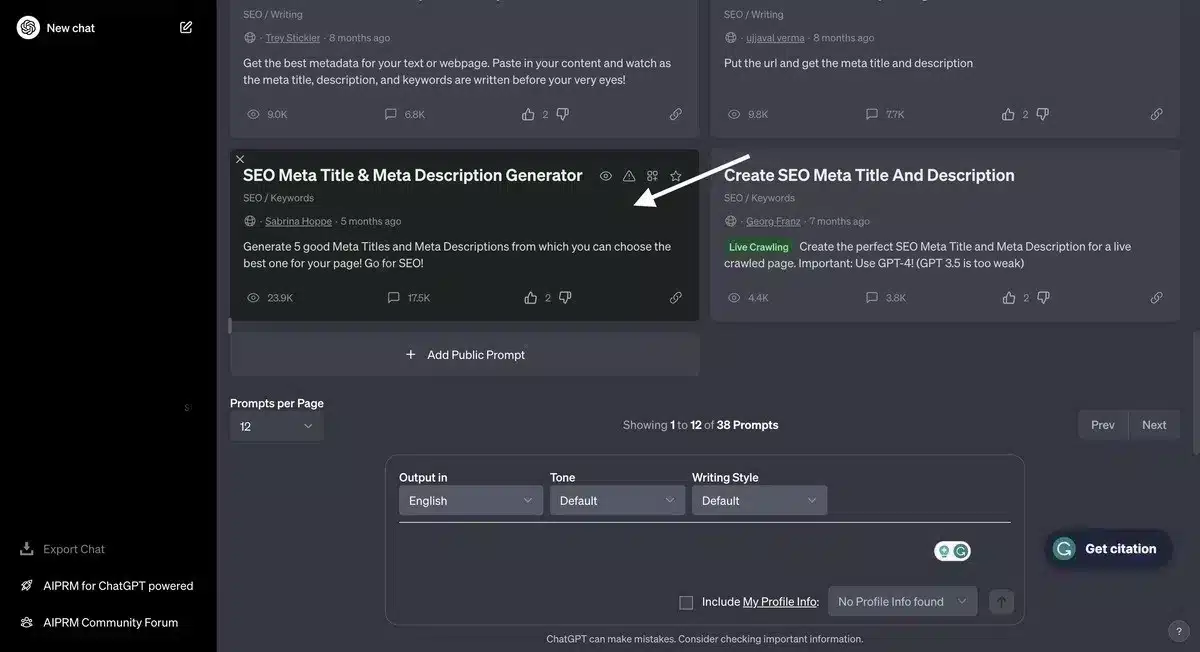 Step 3: Enter your Blog Title or Keyword in the search box below.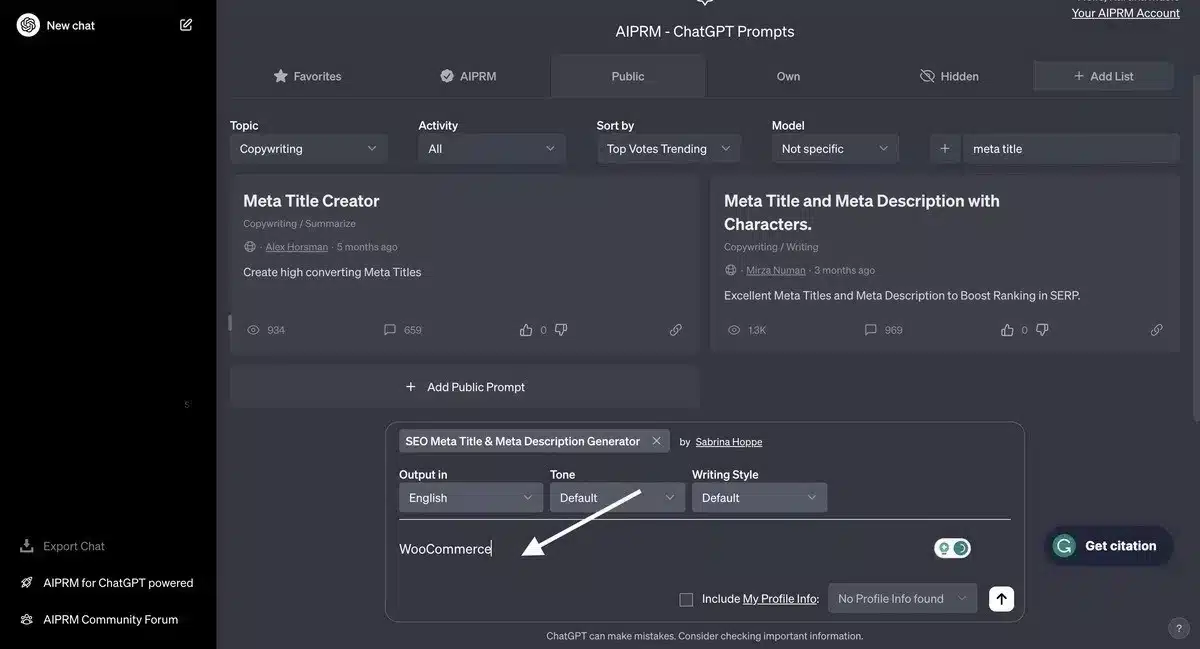 Step 4: You'll get a list of Meta Descriptions related to your Blog Title.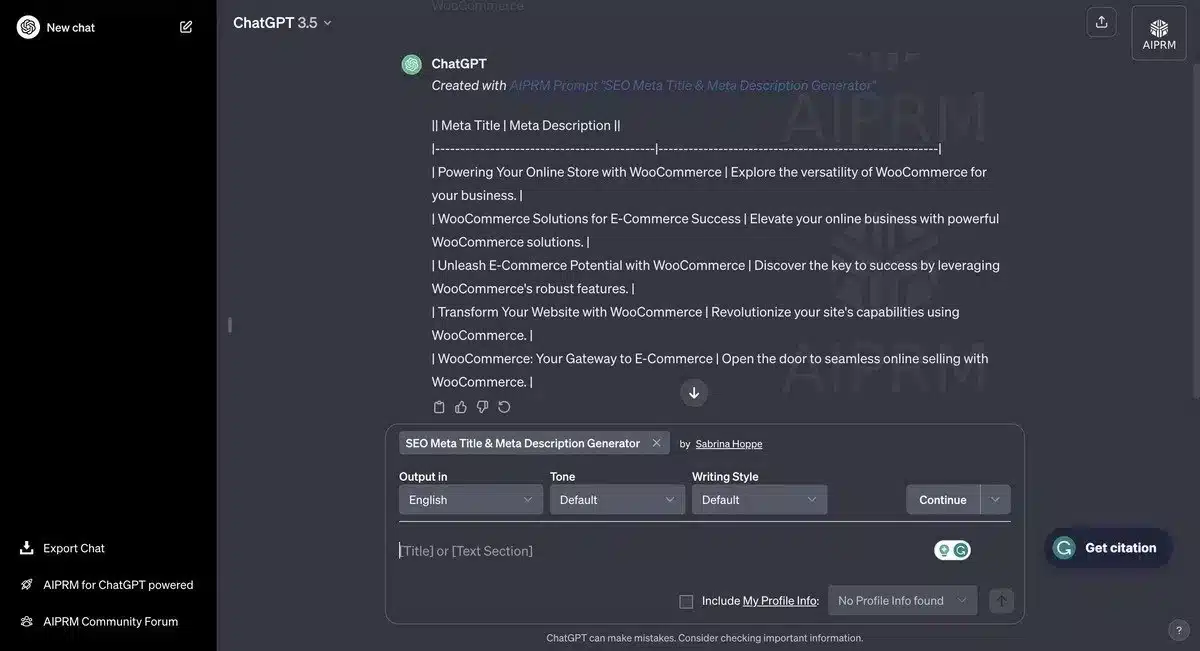 Generate FAQs:
Step 1: Select the option "SEO" under the "Topics" section.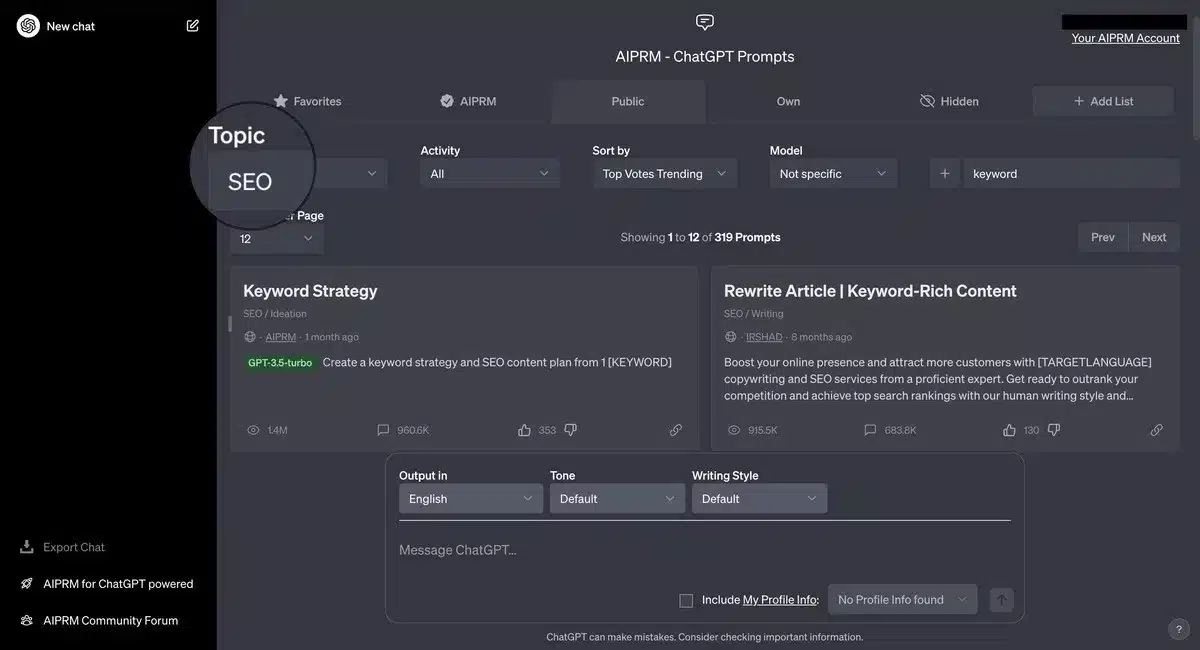 Step 2: Next, select the prompt known as "FAQ from Content".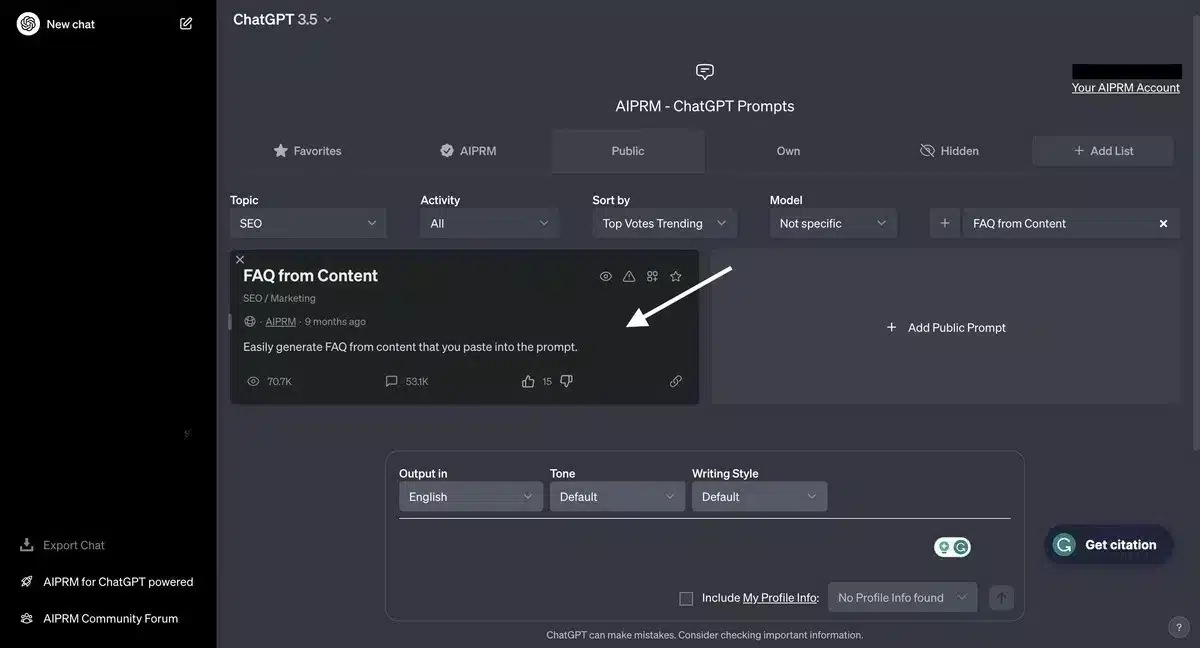 Step 3: Enter your Blog Title or Keyword in the search box below.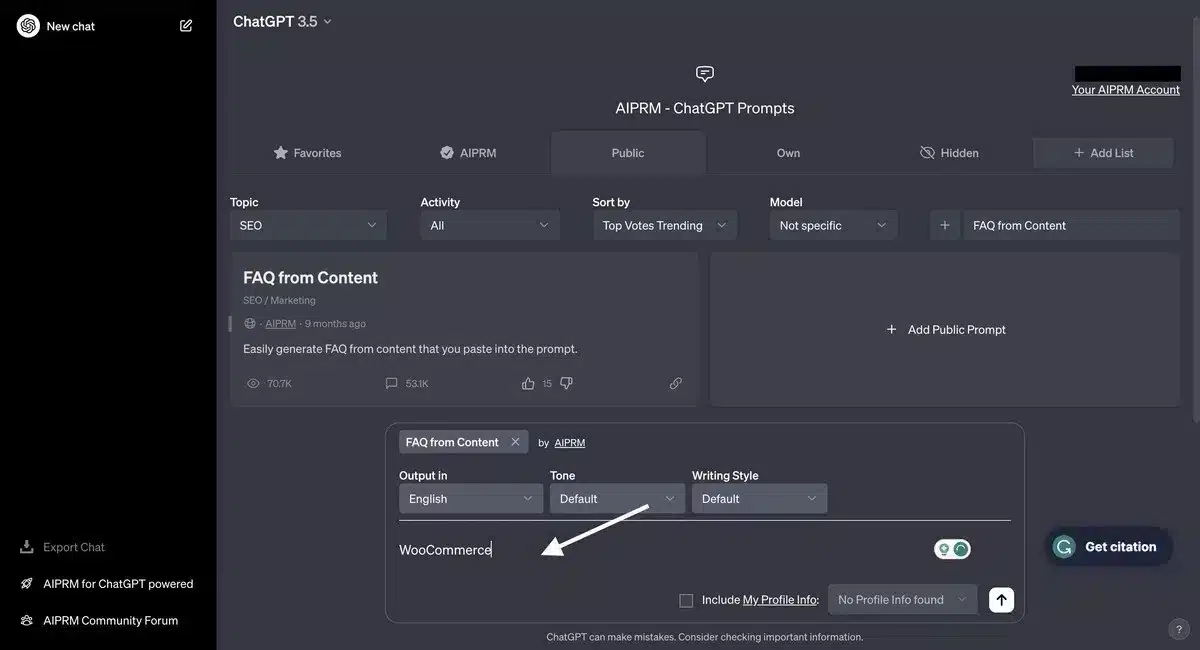 Step 4: You'll get a list of FAQs related to your Blog Title.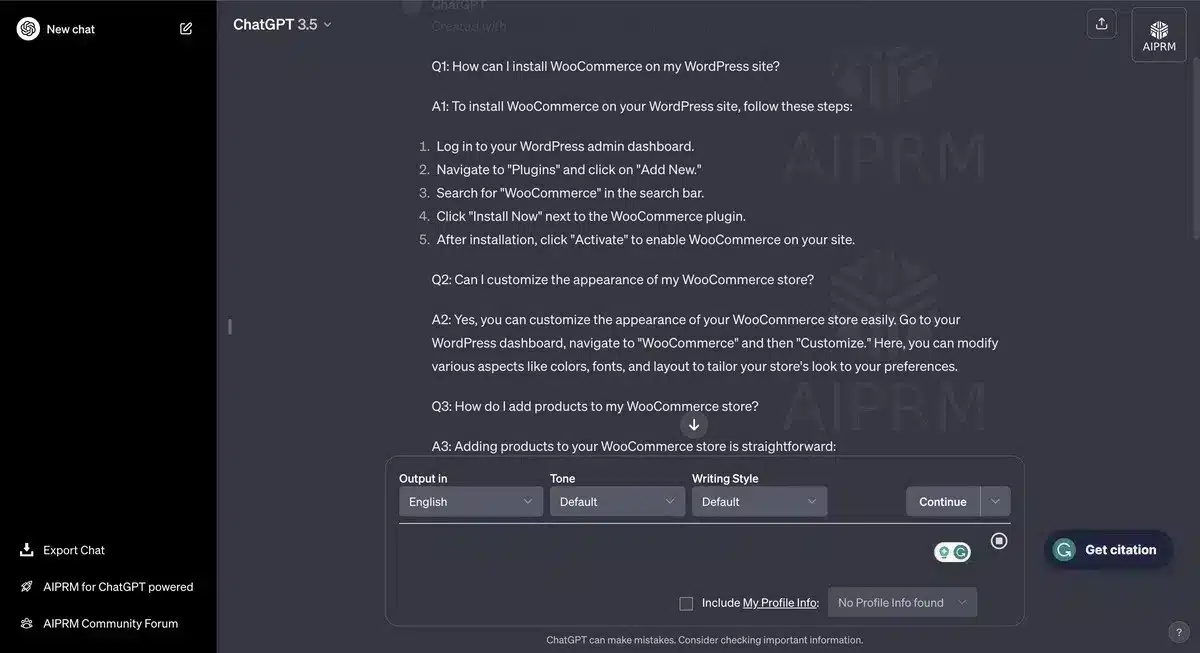 Benefits of Utilizing AIPRM for SEO
Easy Blending: AIPRM for SEO makes teaming up super easy. No headaches in combining AIPRM and ChatGPT, they work together seamlessly. This smooth teamwork ensures a trouble-free and efficient partnership, making a bigger impact.
Supercharged Content Creation: Tackling the challenge of creating awesome content, AIPRM for ChatGPT is like your content superhero. Bringing together AIPRM and ChatGPT, not only boosts content quality for search engines but also adds a touch of creativity. It's the solution to hurdles in the content creation journey.
Simple Marketing Moves: AIPRM for SEO is your guide through the Marketing maze. It simplifies the way marketing plans are put into action, making sure everything fits together. This duo ensures a smooth and effective approach to digital marketing, overcoming any bumps along the way.
Wow-Worthy User Interaction: Meeting the challenge of keeping users engaged, AIPRM for SEO focuses on creating content that wows. Tailoring content to what users like, ensures people stay interested and involved. This dynamic duo tackles challenges to keep your audience captivated and connected.
Final Thoughts on Using AIPRM for SEO
In a nutshell, AIPRM for SEO isn't your usual SEO tool, it is like digital magic for your blog. Picture AIPRM's smart strategies teaming up with ChatGPT's creative touch, giving your content that extra sparkle. So, boost your blog, dive into the magic, and see AIPRM for SEO turn your ordinary content into something enchanting in the digital world.
Discovering quick ways to make money online using ChatGPT? Check out our guide on "How to Make Money With ChatGPT: 11 Proven Easy Ways" for practical tips and strategies. Whether you're a ChatGPT pro or just a beginner, these easy ways can boost your online income.
Answering Your Questions: FAQs About AIPRM for SEO
Q.1 How can AIPRM help improve my blog's SEO?
AIPRM enhances a Blog's SEO by providing tailored content that aligns with search engine algorithms, optimizing keyword usage, and ensuring your blog ranks higher in relevant searches.
Q.2 Is AIPRM suitable for all types of blogs?
AIPRM is versatile and can benefit a wide range of blogs, from personal to business-focused, ensuring effective SEO strategies for various content types.
Q.3 How does AIPRM handle keyword optimization?
AIPRM strategically incorporates relevant keywords into your content, maintaining a natural flow while maximizing SEO benefits and increasing your blog's visibility.
Q.4 What sets AIPRM apart from other SEO tools?
AIPRM stands out by combining advanced AI capabilities with a focus on content quality, ensuring not only SEO optimization but also engaging and valuable content for your audience.
Q.5 Can AIPRM adapt to specific niche requirements?
Yes, AIPRM can adapt to specific niche requirements, tailoring content to meet the unique demands of your blog's focus and ensuring targeted and effective SEO.