We are very glad and blessed that we were awarded by the WP Requirements Compliant Badge for our CodeCanyon Profile. This means that all our products are meeting the WordPress quality standards including security, quality, performance, and modern coding standards.
All plugins sold by us were thoroughly checked by the Envato market experts and are fully compliant with all modern WordPress requirements.
What is WP Requirements Compliant Badge?
This is an author level badge that is awarded by Envato, only to the authors who have passed the spot check process i.e. all their products should be meeting the current/updated published WordPress requirements (for themes and plugins respectively). This badge is a symbol of quality and excellence in web development, and it signifies a website owner's commitment to adhering to the WordPress coding standards and best practices.
To achieve the WP Requirements Compliant badge, a product must meet a set of criteria that are based on the WordPress coding standards and best practices. These criteria include things like proper indentation and formatting, correct usage of WordPress functions and hooks, secure code practices, and adherence to WordPress core functionality.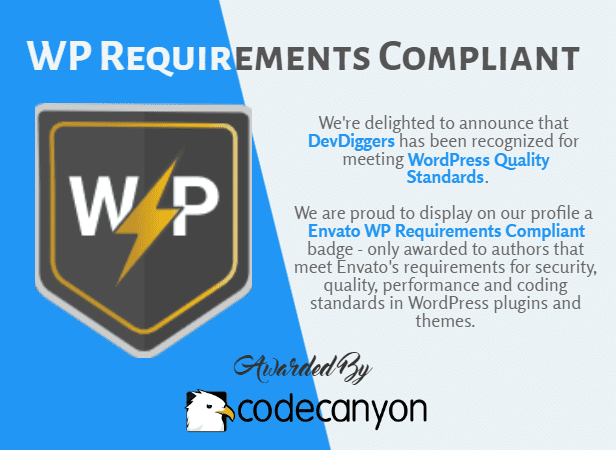 Why is WP Requirements Compliant Badge a big deal?
Well, this is a pretty big deal, because Envato's new WordPress plugin requirements list is very long (was updated in early 2021). We work extra hard in building our products to meet these new requirements. So, it was not easy to obtain this badge.
Also, right now, this badge was awarded to very few authors from Envato and can be checked in this forum. When we got this badge, there were just 138 authors from the entire Envato in this list.
Our products adheres to the WordPress coding standards and best practices, ensuring optimal performance and security for our users. We are proud to display the WP Requirements Compliant badge, which signifies our commitment to quality and excellence in web development.
We love to build such interesting and amazing featured products for you. Discover a world of possibilities with our WooCommerce extensions. Find the perfect extensions to help you grow your online store, from payment gateways and shipping calculators to marketing tools and more. Customize your store, streamline your operations, and improve your customers' experience with the best WooCommerce plugins on the market. Thank you so much for choosing our products!!
Support
If you have any questions or queries or need assistance for our WooCommerce extensions or need any special customizing, you can connect with us from our contact page or can mail us at support@devdiggers.com. We will do our best to answer as quickly as possible.