B2B eCommerce is becoming a vital part of the commercial environment in the age of the internet. Businesses are using eCommerce platforms more frequently as a result of technological and internet advancements for the purpose of simplifying operations, attracting new clients, and building lasting partnerships.
B2B eCommerce website provides a digital marketplace where businesses can connect, negotiate, and efficiently complete transactions. The various benefit of B2B eCommerce includes extended market reach, expanded proficiency, upgraded client experience, and further developed information bits of knowledge, making it a vital part of gaining, selling, and holding clients.
However, let's first understand B2B eCommerce and the benefits of B2B eCommerce. And then, learn more about the essential Shopify B2B features that make acquiring, selling, and retaining customers easier by reading on.
In 2023, an estimated 17 percent of B2B sales are expected to be generated digitally. In 2019, this share was 13 percent. Overall, U.S. B2B online sales are projected to reach 1.8 trillion U.S. dollars in 2023.

Statistica
What is B2B Ecommerce?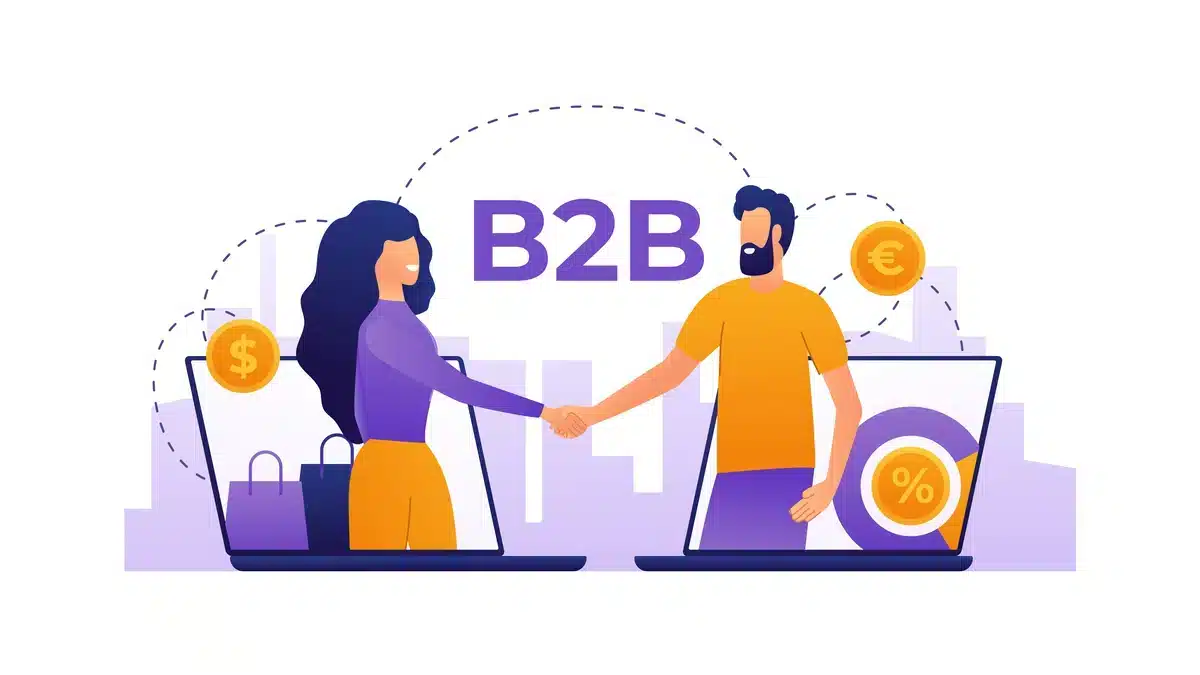 B2B eCommerce business, short for Business-to-Business eCommerce business, alludes to the web-based trade of merchandise, administrations, and data between organizations or associations. It includes advanced exchanges and connections directed over the web, empowering organizations to trade items, team up with providers and accomplices, and oversee different parts of their tasks electronically.
In contrast to Business-to-Consumer (B2C) eCommerce, B2B eCommerce focuses on transactions between businesses and individual consumers. It caters to the particular requirements and wants of businesses. It incorporates a great many ventures and areas, including producing, discount exchange, dispersion, obtainment, and expert administrations.
Businesses engaged in business-to-business eCommerce rely on eCommerce service providers and technology to simplify managing their supply chains, optimize procurement processes, and enhance partner engagement. These platforms usually include features like online catalogues, safe payment methods, managing orders tools, and connection options with ERP or CRM software, to name just a few.
Don't assume you have any idea what your customers are searching for. You tend to use insider lingo or terms no one is using. Google Keyword Planner doesn't lie. Use it or another search keyword tool to know what people are really looking for.

Jennifer Riggins
How WooCommerce Comes into Play for the B2B Ecommerce?
WooCommerce stands out as an exceptional solution for B2B (business-to-business) eCommerce. It offers incredible flexibility, making it easy to customize and adapt to the specific needs of any B2B operation. As a business grows, WooCommerce scales effortlessly, accommodating a growing product range and increasing order volumes without a hitch. Its cost-effectiveness, built on the open-source WordPress platform, makes it an attractive choice for budget-conscious B2B businesses.
One of WooCommerce's standout features is its vast selection of extensions and plugins crafted to meet B2B requirements. These include customizable pricing options, efficient account management tools, and the ability to handle bulk orders effectively. Seamless integration with third-party applications ensures a smooth workflow, synchronizing data across various business operations.
WooCommerce allows for personalized pricing structures and discounts, essential for the nuanced pricing strategies often seen in B2B transactions. Its intuitive interface, leveraging the familiarity of WordPress, makes it easy for users to navigate and manage their online store effortlessly. Plus, its adept handling of complex order workflows further cements it as an optimal choice for businesses seeking to streamline their B2B eCommerce ventures.
The Benefits of B2B Ecommerce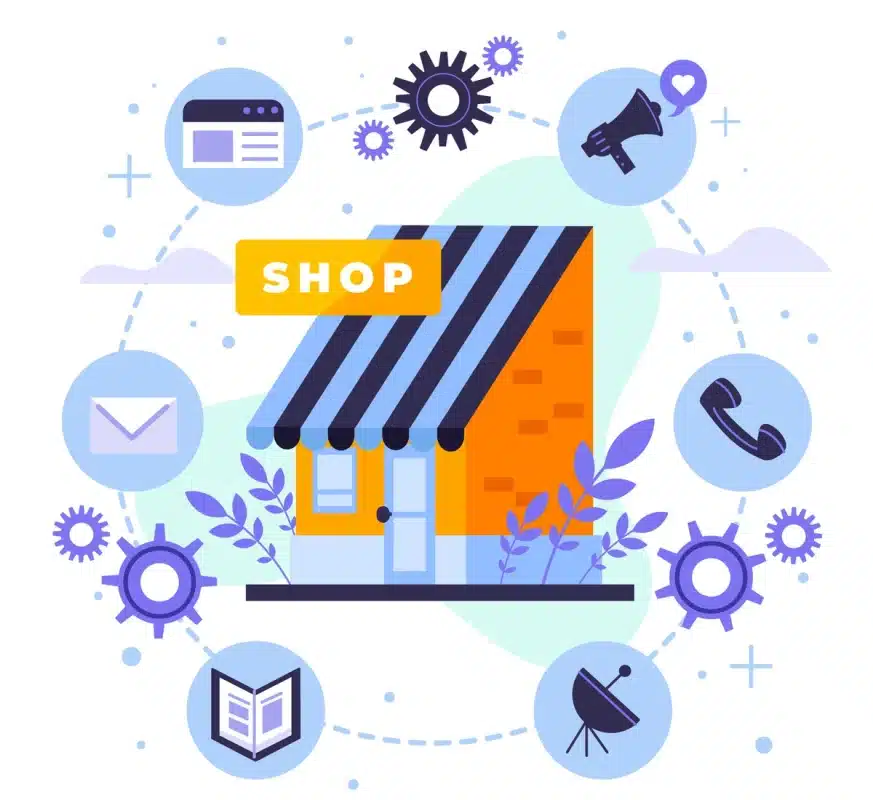 The following are some advantages of B2B eCommerce:
Enhanced Efficiency and Time Savings
The capacity of B2B eCommerce to increase productivity and save time for organizations is one of its main benefits. Long-winded procedures, including phone calls, faxes, and written documentation, are a part of traditional ways of buying and selling products and services.
By giving companies an online platform where they can easily engage, place orders, and make payments, B2B eCommerce gets rid of these inefficiencies. This streamlines the entire purchasing process, resulting in significant time savings and increased productivity.
Expanded Market Reach
B2B eCommerce website breaks down geographical barriers, allowing businesses to expand their market reach beyond traditional boundaries. With an online presence, companies can reach customers globally, enabling them to tap into new markets and connect with potential clients who may have otherwise been inaccessible. This broader market reach opens up immense opportunities for growth and revenue generation.
Increased Sales and Revenue
Revenue and sales might rise dramatically with a B2B eCommerce approach. Due to their accessibility and usability, online platforms let businesses promote their products or services, give detailed information, and engage customers.
B2B eCommerce increases conversion rates and sales by streamlining the purchase process, luring new clients, and maintaining old ones. Besides, information investigation apparatuses coordinated into online business stages give important bits of knowledge into client conduct and inclinations, empowering organizations to, in like manner, pursue informed choices and design their contributions.
Improved Customer Experience
Keeping up with consumer loyalty and unwaveringness depends vigorously on the nature of the client experience. By giving easy-to-understand interfaces, customized item suggestions, and self-administration capacities, the B2B eCommerce business site means to develop the client experience further.
On these platforms, customers can easily browse catalogues, access product information, place orders, and track shipments. Businesses can strengthen their relationships with customers by providing a smooth and effective purchasing experience. This improves customer satisfaction, encourages repeat business, and generates positive word-of-mouth recommendations.
Efficiency in Operations and Significant Cost Savings for Businesses
B2B eCommerce results in significant operational efficiencies and cost savings for businesses. Companies can cut costs associated with physical infrastructure, such as the upkeep of physical storefronts or printed catalogues, by shifting transactions online.
Order processing, inventory management, and invoicing are just a few of the manual processes that can be automated through eCommerce platforms to cut down on administrative costs and errors. Representatives can focus on additional essential exercises, like deals and client relationships with the board, via robotizing routine undertakings, which recover time as well as save time.
Supply Chain Optimization and Inventory Management
A B2B eCommerce website provides robust inventory management capabilities, allowing businesses to improve their supply chains. Automated stock replenishment and real-time inventory visibility guarantee that products are readily available and reduce the likelihood of stockouts or overstocking.
Moreover, a combination with providers and wholesalers through online business stages smoothes out the acquisition cycle, diminishing lead times and further developing general store network effectiveness. Businesses benefit from improved order fulfilment, cost reduction, and waste elimination as a result of the increased visibility and control over inventory and supply chain operations.
Decision-Making and Data-Driven Insights
Customers have access to important data and analytics through B2B eCommerce platforms, which may aid them in making educated business decisions. By monitoring consumer behaviour, buying habits, and preferences, businesses may modify their marketing tactics, find possibilities for cross-selling or upselling, and obtain insight into market trends.
The data analytics capabilities built into eCommerce platforms provide businesses with the capacity to make data-driven choices and optimize their operations. With the use of these tools, entities may monitor important performance metrics, including conversion rates, client acquisition expenses, and average purchase values.
B2B Ecommerce Features for Acquiring Customers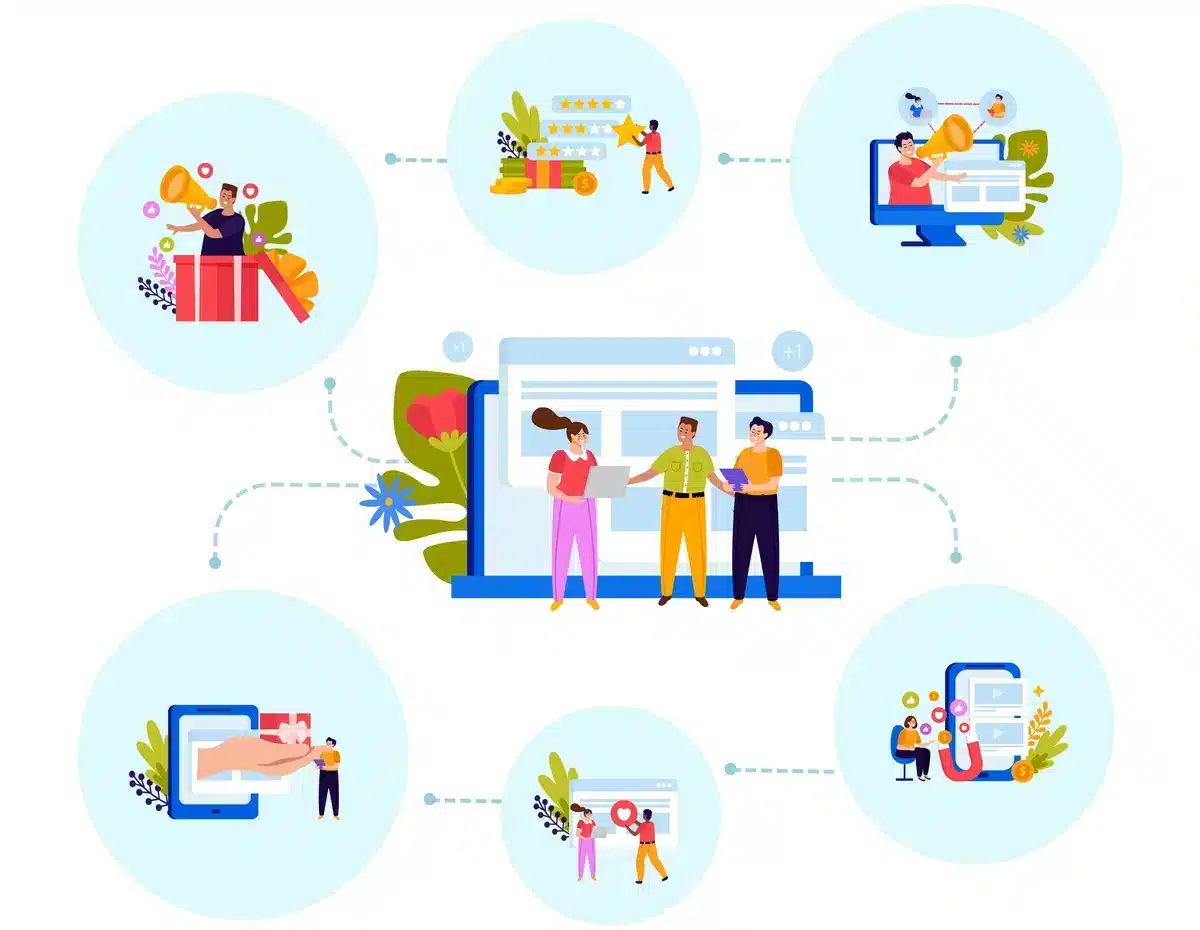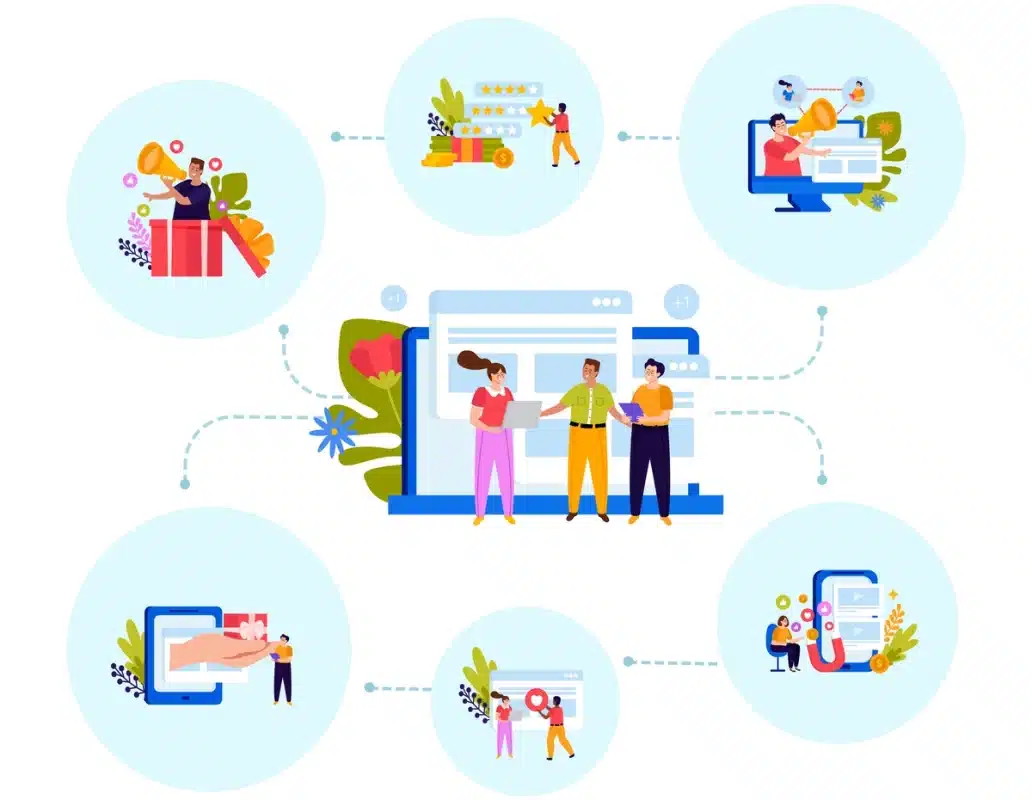 Businesses need to use some features to attract clients. Companies can drive sustainable growth by streamlining their operations, improving the customer experience, and using the right set of features.
Comprehensive Product Catalog
In B2B eCommerce, acquiring customers requires a product catalogue that is well-organized and simple to navigate. It ought to give point-by-point item data, including particulars, valuing, and accessibility. Furthermore, high-level inquiry and sifting choices assist customers with rapidly finding the items they need.
Recommendations for Personalized Products
The process of acquiring new customers can be significantly improved by putting in place an intelligent recommendation engine. The system can suggest relevant products, cross-sell or upsell opportunities, and increase the likelihood of conversion by analyzing customer behaviour, browsing history, and previous purchases.
Pricing and Negotiations
Negotiations and customized pricing based on factors like order quantity, customer loyalty, or contract terms are common in B2B transactions. Businesses can better build trust and make transactions go more smoothly by providing customers with a pricing and quoting system that is adaptable to their requirements.
Methods for Getting Leads
To effectively secure clients, B2B eCommerce business stages can coordinate lead age devices. Through contact forms, pop-ups, or gated content, these tools collect information about potential customers, such as email addresses, phone numbers, or company details. After that, this data can be put to use in individualized follow-ups and specialized marketing campaigns.
Options for Guest Checkout and Account Registration
It is essential to offer a guest checkout option in addition to the benefits of account registration, which include personalized experiences and order history tracking. A few clients favour a smoothed-out and bother-free buying process without the need to make a record. By providing both choices, you can better meet the preferences of different customers and lower conversion barriers.
Consistent Coordination with CRM and Advertising Robotization
Businesses can streamline their efforts to acquire customers by integrating eCommerce website development with CRM systems and marketing automation tools. It empowers successful lead sustaining, customized correspondence, and consistent following of client collaborations across various channels.
B2B Ecommerce Features that Make Selling Easier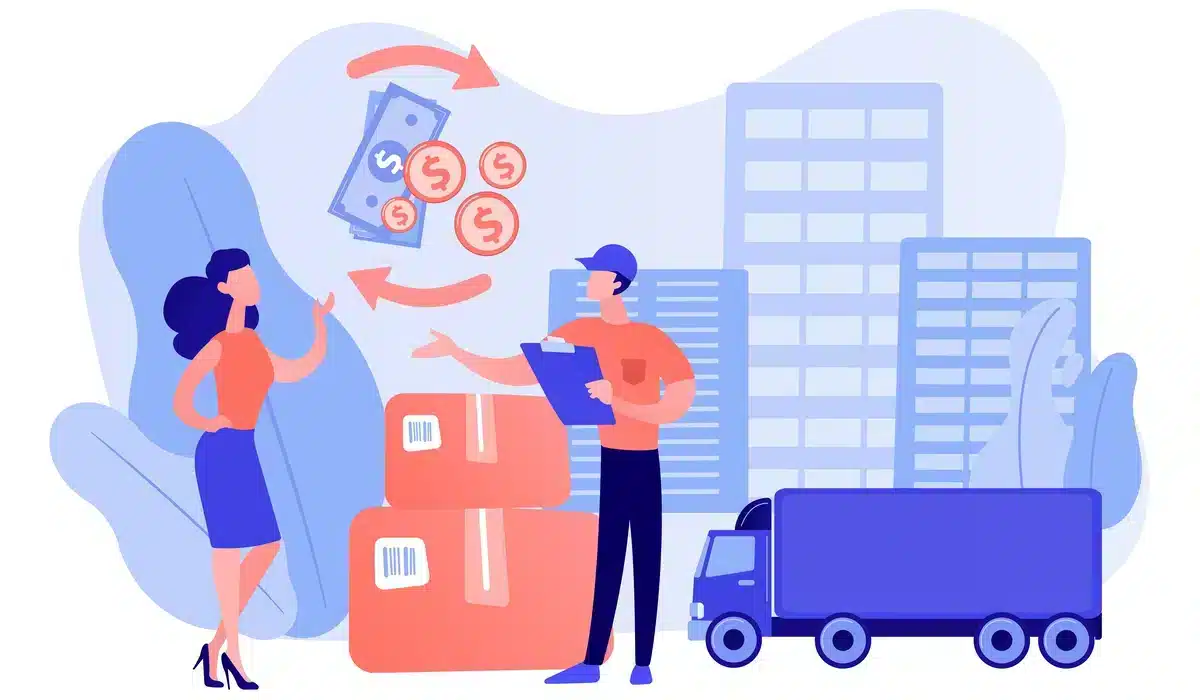 Smoothing out the sales cycle is fundamental for progress. By giving a consistent and proficient purchasing experience, businesses can increment transformations, cultivate client devotion, and drive income development.
Advanced Quoting and Proposal Management
It is essential to provide advanced quoting and proposal management features in B2B eCommerce to streamline the sales process. These highlights permit outreach groups to create proficient and modified statements or recommendations, including estimating subtleties, item designs, and agreements. Coordination with CRM frameworks can guarantee consistent joint effort among deals and client assistance groups.
Tracking and Management of Orders
Effective requests the board highlights are fundamental to working with the selling system. Order history, order status tracking, and order creation should all be offered by businesses. Also, ongoing stock administration guarantees exact accessibility data, forestalling any potential satisfaction issues.
Reordering and Purchasing in Bulk
Numerous B2B clients favour the comfort of mass requesting or reordering. For customers who frequently place large or recurring orders, enabling functionalities like the bulk upload of orders via CSV files, quick order forms, or saved order templates makes the purchasing process simpler.
Multiple Methods of Payment and Credit Control
For B2B eCommerce, having a variety of payment options is essential. Alongside customary strategies like charge cards and bank moves, businesses can coordinate instalment entryways, electronic asset moves, or even credit accounts. For long-term customer relationships, efficient credit management features like credit limits, invoice generation, and payment reminders are especially useful.
Quote-to-Request Change
It is essential to provide a seamless transition from quoting to order placement to increase sales conversions. Without having to re-enter every detail, customers ought to be able to quickly and easily turn a quote into an order with just a few clicks. This speeds up the closing of sales by streamlining the buying process and reducing friction.
Tools for Sales and Marketing Integration
Sales teams can gain valuable insights and automation capabilities by integrating the eCommerce marketing platform with sales tools like Affiliate Marketing Programs, CRM systems, email marketing functionalities, or sales analytics platforms. These incorporations empower customized correspondence, lead support, and information-driven navigation.
B2B Ecommerce Features for Retaining Customers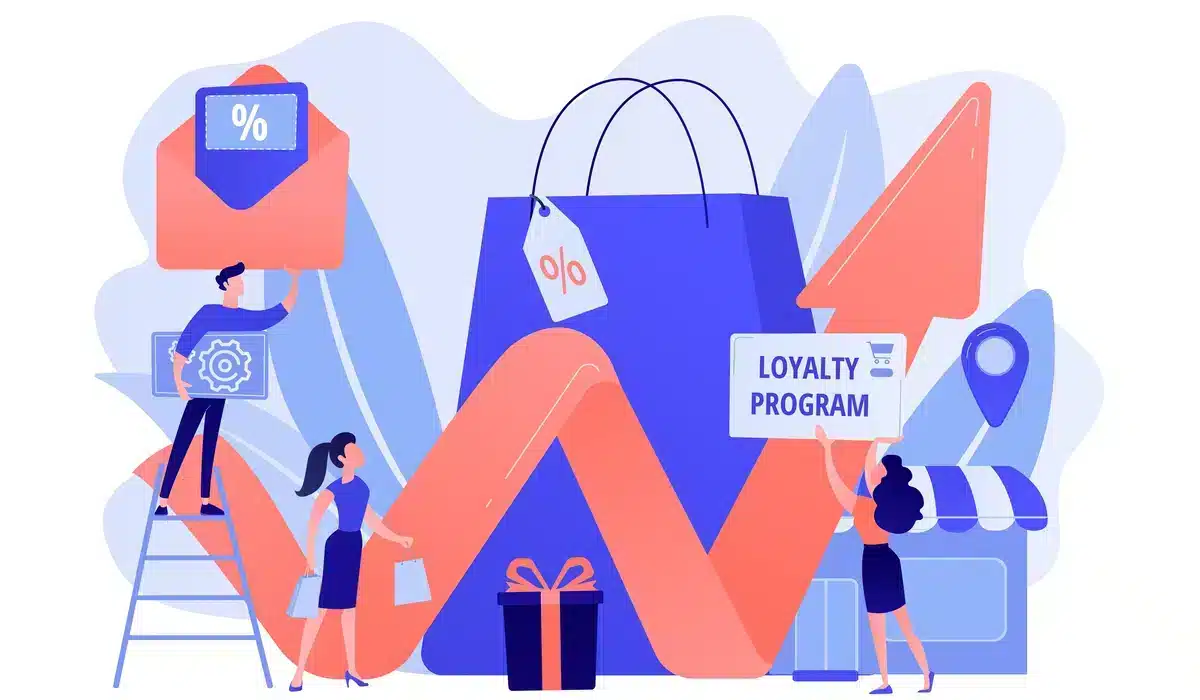 Retaining customers assumes a basic part in driving maintainable development and long-haul achievement. Holding existing clients encourages brand unwaveringness as well as lessens obtaining costs and produces repeating income.
Dashboards for Personalized Accounts
Offering personalized account dashboards to customers improves their overall experience and encourages them to make additional purchases. These dashboards can show request history, following data, saved addresses, tweaked evaluations, and customized item suggestions. These individualized experiences encourage ongoing engagement and build customer loyalty.
Templates for Quick Reordering and Ordering
Offering quick reordering options and the ability to save order templates can significantly enhance convenience and make the reordering process easier for devoted customers. Customers can save time and effort by easily replicating previous orders or choosing from their most frequently ordered items with this feature.
Discounts Based on the Customer
In B2B eCommerce business, businesses frequently arrange one-of-a-kind evaluations and limits with individual clients given variables like volume buying or long haul contracts. Pricing and discount structures tailored to each customer ensure personalized offers and increase customer loyalty.
Loyalty Programs and Rewards
Customer loyalty programs work well to keep customers coming back. Businesses can encourage repeat purchases, referrals, and other desired customer behaviours by implementing reward systems. Point-based systems, tiered membership levels, exclusive discounts, and special promotions for devoted customers are all examples of these kinds of programs.
Proactive Support for Customers
Uncommon client care assumes an essential part in client maintenance. Customers will always be able to get in touch with you quickly and easily if you provide a variety of support options, such as live chat, email, and phone. And also given a chance to find solutions on their own when self-service options like frequently asked questions are created.
Campaigns of Personalized Email Marketing
Personalized email marketing campaigns can effectively cultivate customer relationships by making use of segmentation and customer data. Sending personalized product recommendations, pertinent insights into the industry, or exclusive promotions based on customer preferences and previous purchases encourages repeat business.
Notifications for Orders and Shipments
Customers are kept informed and reassured by providing proactive notifications at each stage of the order and shipping process. Transparency, trust, and the overall customer experience are all enhanced by automated notifications like order confirmations, shipping updates, and delivery notifications.
Conclusion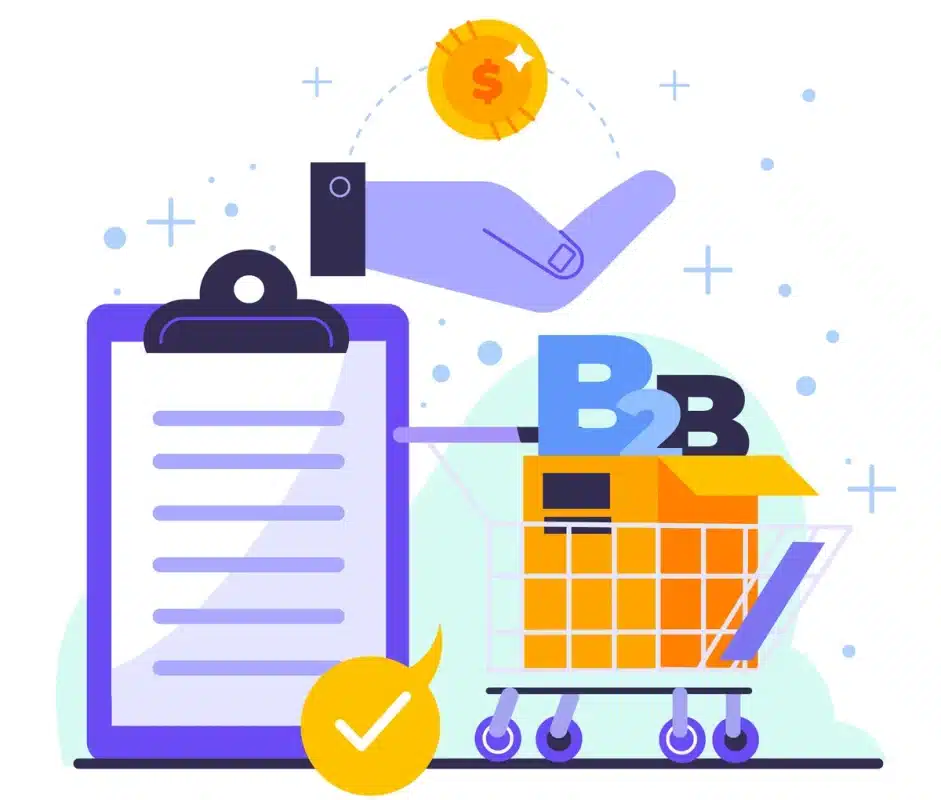 Businesses must concentrate on effectively acquiring, selling, and retaining customers to succeed in B2B eCommerce. Companies can attract new customers, streamline sales procedures, and cultivate long-term customer loyalty by incorporating the appropriate set of features tailored to each stage of the customer journey. Businesses can stay competitive, drive growth, and provide exceptional customer experiences by embracing these essential Shopify B2B features.
If you are looking for a trusted eCommerce solution provider, look no further than DevDiggers. We are a top-notch WooCommerce development services agency that can boost your online sales with a customized, user-friendly, and feature-rich WooCommerce website. Contact us today!